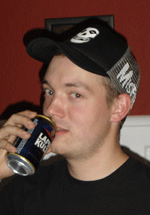 Redaktør, medstifter af Planet Pulp. Født i det gyldne år 1977, hvor den første Star Wars-film såvel som Sex Pistols' Never Mind the Bollocks udkom og Elvis døde. Jeg er da heller ikke i stand til at huske tilbage til et tidspunkt i mit liv, hvor jeg ikke har været voldsomt og overdrevet besat af Star Wars (og sådan startede nørderiet; Phantom Menace har selvfølgelig lagt en dæmper på det kærlighedsforhold). Vokset op i Kliplev, en lille landsby i den mørkeste og sydligste del af Sønderjylland, som jo for øvrigt kan betragtes som Danmarks svar på Kentucky.
Her lærte jeg, fra en ung alder, at rage i containere og halvstørre skraldespande, sammen med resten af bonderøvene (at være containerrager og klunse er næsten en profession i Sønderjylland). For bare fordi nogle andre har smidt noget væk betyder jo ikke at det ikke stadig kan bruges, og der er ingen grund til at være kræsen eller fin på den.
Sværd og Trolddom blev min introduktion til rollespil, både som gamebook og i form af Lav dine egne eventyr, og jeg er stadig meget betaget af dem. De har også affødt mit voldsomme sværmeri for britisk sf/horror og fantasy, hovedsagelig i form af Games Workshop og 2000AD, hvor firserne, i min bog, var den absolutte Golden Age for dem begge. Jeg er officielt diagnosticeret med hvad der i kliniske psykiatriske behandlingsbøger bærer betegnelsen "et overdrevet GW-fetich". Dette er selvfølgelig vokset ud af en sygelig samler-mani hvad angår rollespil (her er de to underkendte genier Paul Mason og Jonathan Tweet mine store helte), brætspil, kortspil, andre spil der ligger mellem definitionen af disse, krigsspil og dertilhørende figurer og selvfølgelig tegneserier, hvor jeg slæber sammen og ruger over alt hvad jeg overhovedet kan få fat i.
Hvad angår tegneserier er for øvrigt Alan Moores Vogterne og Hernandez-brødrenes Love and Rockets muligvis noget af det absolut mest fantastiske, mennesket som art, nogensinde har frembragt. Og selvfølgelig samler jeg også på bøger. Stakke, reoler, kasser, kælderrum fyldte med dem. De fleste af mine favoritter er de gamle pulpforfattere: selvfølgelig Raymond Chandler, Dashiell Hammet, H.P. Lovecraft, Robert E. Howard, Fritz Leiber, Ray Bradbury og den helt uforlignelige Philip K. Dick. Men også anden Americana som Thomas Pynchon, William S. Burroughs, Hunter S. Thompson og Charles Bukowski, hvor det flyder med stoffer, sex og hor. Som horror-forfatter har den tidlige Clive Barker en stor stjerne ved mig, og det gælder selvfølgelig også hans Hellraiser-film (eller i hvert fald de to første). Jeg er også helt pjattet med hans canadiske åndsfælle David Cronenberg, hvor Videodrome og Naked Lunch med deres kropsfiksering og virkelighedsforvrængning er mine absolutte favoritter. Derudover lærte min far mig allerede som lille at elske mestrene Leone og Coppola.
Og til sidst, hvilket menneske ville jeg ikke være blevet, hvis jeg ikke havde set utrolige TV-serier som BBC's Sherlock Holmes (med Jeremy Brett som Holmes), Richard Carpenters Robin of Sherwood eller Dennis Potters The Singing Detective.
Claus har skrevet følgende anmeldelser og artikler:
Film:
Once Upon a Time in Norway (Martin Ledang m.fl., 2007)
Pterodactyl (Mark L. Lester, 2005)
A Sound of Thunder (Peter Hyams, 2005)
Bøger:
The Afterblight Chronicles: The Culled (Simon Spurrier, 2006)
All Those Moments: Stories of Heroes, Villains, Replicants, and Blade Runners (Rutger Hauer & Patrick Quinlan, 2007)
Big Planet (Jack Vance, 1957)
Dreams of Inan: A Kind of Peace (Andy Boot, 2006)
Dreams of Inan: Stealing Life (Antony Johnston, 2007)
Lords of Chaos – The Bloody Rise of the Satanic Metal Underground (Michael Moynihan
& Didrik Søderlund, 1998)
Otoriklanens Fortællinger 1: Nattergalens Sang (Lian Hearn, 2002)
The Past Through Tomorrow (Robert A. Heinlein, 1967)
The Sky Lords (John Brosnan, 1988)
The Vampire Geneviève (Jack Yeovil (Kim Newman), 2005)
Tegneserier:
2000 AD Extreme Edition 19: Time Flies (Garth Ennis m.fl., 2006)
ABC Warriors: Hellbringer (Pat Mills, Tony Skinner & Kevin Walker, 2008)
ABC Warriors: Khronicles of Khaos (Pat Mills, Tony Skinner & Kevin Walker, 2007)
ABC Warriors: The Third Element (Pat Mills, Kevin Walker, Henry Flint m.fl., 2008)
Ace Trucking Co.: The Complete Ace Trucking Co. Volume 1 (Alan Grant, John Wagner m.fl., 2008)
Asylum (Rob Williams & Boo Cook, 2002/04)
Caballistics, Inc.: Creepshow (Gordon Rennie & Dom Reardon, 2007)
Caballistics, Inc.: Going Underground (Gordon Rennie & Cam Reardon, 2006)
D.R. & Quinch: The Complete D.R. & Quinch (Alan Moore, Jaime Delano & Alan Davis, 2006)
Durham Red: Empty Suns (Dan Abnett, Mark Harrison m.fl., 2007)
Fiends of the Eastern Front (Gerry Finley-Day & Carlos Ezquerra, 2006)
Future Shocks: The Complete Alan Moore Future Shocks (Alan Moore m.fl., 2006)
Hate: The Complete Hate vol. 1: Buddy does Seattle (Peter Bagge, 2005)
Hellboy: Kæmpeormen (Mike Mignola, 2004)
Hellboy: Undergangens Højre Hånd (Mike Mignola, 2003)
Invasion! (Pat Mills m.fl., 2006)
John Constantine Hellblazer: Hans Værker og Maskiner (Leonardo Manco & Mike Carey, 2005)
John Constantine Hellblazer: Londons Dæmoner (Jamie Delano m.fl., 2005)
Judge Dredd: America (John Wagner & Colin MacNeil, 2008)
Judge Dredd: The Art of Kenny Who? (John Wagner m.fl., 2006)
Judge Dredd: The Carlos Ezquerra Collection (Garth Ennis, Carlos Ezquerra m.fl., 2007)
Judge Dredd: The Chief Judge's Man (John Wagner m.fl., 2006)
Judge Dredd: The Complete Case Files 03 (John Wagner m.fl., 2006)
Judge Dredd: The Complete Case Files 04 (John Wagner m.fl., 2006)
Judge Dredd: The Complete Case Files 05 (John Wagner m.fl., 2006)
Judge Dredd: The Complete Case Files 06 (John Wagner m.fl., 2006)
Judge Dredd: The Complete Case Files 07 (John Wagner m.fl., 2007)
Judge Dredd: The Complete Case Files 08 (John Wagner, Alan Grant m.fl., 2007)
Judge Dredd: The Complete Case Files 09 (John Wagner, Alan Grant m.fl., 2007)
Judge Dredd: The Complete Case Files 10 (John Wagner, Alan Grant m.fl., 2008)
Judge Dredd: The Complete PJ Maybe (John Wagner m.fl., 2006)
Judge Dredd: The Hunting Party (John Wagner m.fl., 2006)
Judge Dredd: Origins (John Wagner & Carlos Ezquerra, 2007)
Judge Dredd: The Pit (John Wagner, Carlos Ezquerra m.fl., 2009)
Mega-City Undercover (Andy Diggle, Rob Williams m.fl., 2000-07)
Nemesis the Warlock: The Complete Nemesis the Warlock Volume 1 (Pat Mills m.fl., 2006)
Nemesis the Warlock: The Complete Nemesis the Warlock Volume 2 (Pat Mills m.fl., 2007)
Nemesis the Warlock: The Complete Nemesis the Warlock Volume 3 (Pat Mills, David Roach m.fl., 2007)
Nikolai Dante: Hell and High Water (Robbie Morrison, Simon Fraser & John Burns, 2008)
Nikolai Dante: Sword of the Tsar (Robbie Morrison, John Burns & Simon Fraser, 2008)
Nikolai Dante: Tsar Wars 1 (Ronnie Morrison m.fl., 2006)
Nikolai Dante: Tsar Wars 2 (Robbie Morrison m.fl., 2007)
Ro-Busters: The Complete Ro-Busters (Pat Mills, Alan Moore, Dave Gibbons m.fl., 2008)
Rogue Trooper: Realpolitik (Gordon Rennie m.fl., 2006)
The Simping Detective (Simon Spurrier & Frazer Irving, 2007)
Sláine: Books of Invasions Volume 1 (Pat Mills & Clint Langley, 2006)
Sláine: Books of Invasions Volume 2 (Pat Mills & Clint Langley, 2006)
Sláine: Books of Invasions Volume 3 (Pat Mills & Clint Langley, 2005-06)
Sláine: Den Hornede Gud (Pat Mills & Simon Bisley, 1996-1997)
Sláine: The Horned God (Pat Mills & Simon Bisley, 1989-90)
Sláine: The King (Pat Mills, Glen Fabry, Dave Pugh m.fl., 1985-88)
Sláine: Time Killer (Pat Mills m.fl., 2003)
Sláine: Time Killer (Pat Mills m.fl., 2007)
Sláine: Warrior's Dawn (Pat Mills, Massimo Belardinelli m.fl., 1983-84)
Sortmund (Allan Haverholm, 2006)
Storming Heaven: The Frazer Irving Collection (John Smith m.fl., 2007)
Strontium Dog: The Final Solution (John Wagner, Alan Grant m.fl., 2008)
Strontium Dog: The Kreeler Conspiracy (John Wagner & Carlos Ezquerra, 2008)
Strontium Dog: Search/Destroy Agency Files 01 (John Wagner m.fl., 2007)
Strontium Dog: Search/Destroy Agency Files 02 (Alan Grant m.fl., 2007)
Strontium Dog: Search/Destroy Agency Files 03 (John Wagner, Alan Grant m.fl., 1983-86)
Strontium Dog: Search/Destroy Agency Files 04 (John Wagner, Alan Grant m.fl., 2008)
The V.C.'s: You're hit, you're dead! (Gerry Findley-Day, Steve McManus m.fl., 2008)
Åbne sår (Rutu Modan, 2007)
Spil:
All Wound Up! (Twilight Creations Inc., 2004)
Dawn of the Dead (Simulation Publications Inc., 1978)
Fury of Dracula (Fantasy Flight Games, 2006)
Ringenes Herre Risk (Parker Spil, Hasbro Nordic, 2002)
Rollespil:
Bliss Stage (grundbog) (Ben Lehman, 2007)
Call of Cthulhu (grundbog) (Sandy Petersen m.fl., 1981)
Conan Roleplaying Game (David "Zeb" Cook, 1985)
Cyborg Commando (grundbog) (Gary Gygax m.fl., 1987)
GURPS Conan – The World of Robert E. Howard's Barbarian Hero (Curtis M. Scott, 1989)
New Style: Violence – the RPG of egregious and repulsive bloodshed (Greg Costikyan, 1999)
Rune (Robin D. Laws, 1994)
Werewolf: The Apocalypse (grundbog) (Stewart Wieck m.fl., 1992)
Artikler:
Ameritrash
Danish Metal Awards 2006 – den 18. november 2006 i Amager Bio
Danish Metal Awards 2007 – den 17. november 2007 i Amager Bio
Fastaval 2006 – en reportage
En guide til Dark Future-serien
GURPS – En introduktion og et rollespilshistorisk panorama
En introduktion til Hellboy
En introduktion til Rogue Trooper
Made in the UK: Introduktion til 2000 AD
Myten H.P. Lovecraft
Road Warriors – Automotiseret Aggression på Apokalypsens Autobahn
True, Tue og svenske-sizere: Interview med Melted
Umenneskelige afvigelser og udsatte pladeudgivelser: Et interview med Urkraft
Vampire: The Masquerade
Warhammer Fantasy Battle
Musik:
Animosity (The Berzerker, 2007)
… As everything is a tragedy (Comity, 2006)
Broadcast to the World (Zebrahead, 2006)
Campaign (F.P.A.C., 2006)
Countdown to Extinction (Megadeth, 1992/2004)
Discontent Hearts and Gasoline (ZSK, 2006)
Drummachinegun (Diverse, 2006)
Everyone is sick or dying (Devotion to Trust, 2005)
Gleichschritt (Neuron, 2004)
The Inhuman Aberration (Urkraft, 2006)
Kill the Romantics (Melted, 2006)
Koncertanmeldelse: GWAR – The Rock, 11/4-2007
Koncertanmeldelse: Tiger Army med DeadLine og Taggy Tones – Stengade 30, 19/4 2007
Night of the Living Scum (My3Scum, ????)
No Compromise (Since The Flood, 2007)
Not Enough Saturday Nights (River City High, 2006)
Rising Crust (The Murder Squad t.o. & Hülluus, 2005)
One Cold Winter's Night (Kamelot, 2006)
Rot and Roll (Coffin Bangers, 2001)
Songs for the Radio (Cut, 1996)
Superhero Zero (The Go-Go Rays, 1998)
Tankodrome IX: Apocalyptic Sonance (Diverse, 2004)
Veronika Decides to Die (Saturnus, 2006)Visions of Eden – The Lilith Project – A Barbaric Romantic Movie of the Mind (Virgin Steele, 2006)
The Warchitect (Contradiction, 2006)
Weapons Are Useless (Your Eyes My Dreams, 2006)