13. november 2013
Redaktionen
Leder og indhold – 13. november 2013
Med en dags forsinkelse er novembernummeret af Planet Pulp på gaden i denne valgmåned, hvor vi skal ned og sætte to krydser ved de folk, vi gerne vil have til at styre landets kommuner og regioner de næste fire år.
Kommunalvalget er nu ikke noget, der som sådan optager os så meget her på Planet Pulp, og i modsætning til folketingsvalg og f.eks. det amerikanske præsidentvalg, er det svært at finde eksempler på film og bøger inden for "vores" genrer, der tager udgangspunkt i kommunal- og regionalpolitikkens noget støvede univers.
Men alligevel kan man i sådan en valgmåned da have godt af at støve nogle både gamle og nyere politiske thrillere af. Skal det være dansk, er der måske ikke så meget kød på genren – om end Kongekabale (2004) bestemt er en hæderlig politisk thriller – men i udlandet, særligt i USA, har politik givet anledning til en stribe glimrende spændingsfilm gennem tiden. En af de bedste er vel nok All the President's Men fra 1976, baseret på Bernstein og Woodwards bog om, hvordan de afslørede Watergate-skandalen og var med til at tvinge Richard Nixon til at gå af som USA's præsident.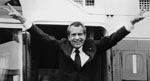 I USA er der måske en tendens til, at politiske thrillere er noget mere fantasifulde og actionprægede end den saglige All the President's Men, men det gør naturligvis ikke filmene mindre underholdende eller for den sags skyld tankevækkende i disse tider, hvor akronymet NSA er blevet kendt af alle danskere (NSA står naturligvis for "No Such Agency" i fald nogen skulle være i tvivl).
Med Jon Voigt i spidsen udsættes Will Smith i Enemy of the State (1998) således for hele NSA's arsenal af overvågning på grund af en sag, der i sidste ende handler om en lov, NSA vil tvinge igennem. I Absolute Power (1997) er det den amerikanske præsident himself, der er medvirkende til at lave et cover-up af drabet på en ung kvinde, han har haft sex med. Og listen over film, hvor enten CIA, FBI, NSA, andre efterretningstjenester eller magtfulde individer som præsidenter, premierministre og andre indtager rollen som skurke er lang.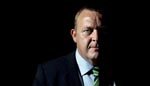 Der er måske nok langt fra Det Hvide Hus til kommunekontoret i Nørre Bøvelse, også på film, men politiske thrillere af alle typer minder os om én meget væsentlig ting: magt korrumperer og total magt korrumperer totalt.
De afsløringer, vi har været vidne til på det seneste i Danmark er måske ikke det stof, politiske thrillere er lavet af, men historierne kommer fra den samme grundessens: Vi giver magt til dem, vi vælger, og nogen vil, på den ene eller den anden måde, misbruge den magt.
Så sæt jer ned og se et par gode politiske thrillere i weekenden og stem med omtanke, når I går ned i valglokalet på tirsdag og sætter jeres kryds.
Månedens lederskribent er Mogens Skaaning Høegsberg.
Film:
Maniac (Franck Khalfoun, 2012)
Bøger:
The Art of Sleepy Hollow (Andrew Kevin Walker, 1999)
Mars Attacks!: The Art Of The Movie (Karen R. Jones, 1996)
Zombie City 1: De dødes by (Benni Bødker, 2013)
Tegneserier:
Den forsvundne hedes sang: Anden cyklus – Nådens riddere bind 1: Moriganerne (Jean Dufaux &
Philippe Delaby, 2004)
Den lange Halloween (Jeph Loeb & Tim Sale, 1998)