13. juli 2013
Michael Lillegaard Larsen
Action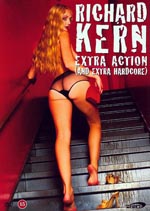 Action er en af den slags film, der vil dele folk. De der vil have plot i deres film, skal springe den over. De der kan nøjes med at se nøgne og naturlige kvinder udfolde sig på den pikante måde vil sikkert kunne lide filmen.
En af undergrundskunstens store navne er amerikaneren Richard Kern. Han startede sin karriere med at lave kunst, digte og fotografier til en række undergrundsmagasiner, som han selv var med at skabe med andre kunstnere.
Senere lavede han små kortfilm om kvinder, der udtrykte sig selv seksuelt, og han lavede fotoserier med selvsamme emne. Kortfilmene er der delte meninger om, men det rager Kern en høstblomst. I den her anmeldelse ser vi på hans kortfilmsamling Action fra 2008.
Masser af pikante tøser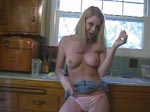 Det lækre dvd-cover til Action er særdeles lovende. Man ser en smuk, sexet kvinde bagfra, mens hun går opad en trappe. Hun er topløs, har en gennemsigtig trusse på, og det bedste af det hele er, at hun ser naturlig ud. For det er det, der kendetegner Richard Kerns kortfilm – han elsker naturlige kvinder i alle former. Her finder man ingen kvinder med botox eller silikone og mange tak for det!
Filmen består af en serie af scener uden plot og dialog. Scenerne er korte, filmet meget intimt og klippet som en montage. De har skæv rockmusik af Thurston Moore (fra bandet Sonic Youth) med sære lydeffekter på lydsporet. Det hele er delt op i sektioner som f.eks. "Legs", "Rub" og "Wet". Jeg behøver vel ikke komme med forklaring på de titler. Kan blot nævne at scenerne intet efterlader til fantasien! De er lavet sådan, at de ligger i grænselandet mellem pornografi og kunst. I hvert fald er Kern og hans kvinder absolut ikke blege af sig, når de udforsker hans frække fantasier.
Ekstramaterialet på Action er praktisk talt bare mere af det samme – bare i små mængder. Titlerne på dem er "The King of Sex", "Pierce", "Scooter and Jinx", "Catholic", "Nazi" og "Goodbye 42nd Street".
Kun for rigtige Richard Kern-fans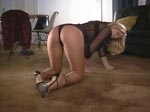 På sin vis beundrer jeg Kerns kompromisløse tilgang til kvinder og sex, men i længden kedede Action mig. Filmen tester simpelthen ens tålmodighed trods mængden af dejlige kvinder. Scenerne bliver ensformige og den gentagne brug af musikken anstrenger ens ører.
Er man fan af Richard Kern, vil man sagtens kunne få en vis glæde i at se de mange kvinder folde sig ud på denne her måde. For vi andre ender det bare med, at man vil se noget andet frækt.
Action er venligst stillet til rådighed af Another World Entertainment.

Titel: Action
Andre titler: Extra Action (and Extra Hardcore)
Dansk titel: Richard Kern Extra Action (And Extra Hardcore)
Instruktør: Richard Kern
Producere: Richard Kern
Musik: Thurston Moore
Foto: Richard Kern
Klip: Richard Kern
Spilletid: 80 minutter
Aspect ratio: 1.33:1
Lyd: Dolby Digital 2.0, 5.1
Sprog: Engelsk
Undertekster: Dansk, svensk, finsk, hollandsk og norsk
Produktionsland, år: USA, 2007
Produktionsselskaber: Taschen
Distributør (DVD): Another World Entertainment
Udgave/region: 2
Anmeldt i nr. 93 | 13/07/2013
Michael Larsen. Michael er 27 år gammel, bor i Ørbæk på Fyn og har en baggrund som webintegrator. Han har tidligere skrevet for onlinemagasinerne Connery.dk og OnFilm.dk. Michael er tosset med film, filmmusik, tegneserier og bøger, og han elsker at skrive om det for andre nørder som sig selv.