18. juli 2013
Michael Lillegaard Larsen
Harryhausen, Raymond Frederick "Ray"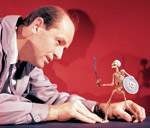 1920-2013. Amerikansk special effects-legende.
Ray Harryhausen blev født i Los Angeles den 29. juni 1920. Hans familie har tyske rødder og Harryhausen blev oprindelig stavet som "Herrenhausen".
Stop motion-animatoren Willis O'Briens arbejde på King Kong (1933) inspirerede den dengang unge Harryhausen, der selv begyndte at eksperimentere med animation. Harryhausens første professionelle job i filmbranchen var som assisterende animator på Mighty Joe Young (1949) sammen med sit gamle idol O'Brien.
I begyndelsen af 1950'erne steg Harryhausen i graderne, og i 1953 var han leder af effektholdet på The Beast from 20,000 Fathoms (dansk: Kæmpeøglen i New York). Siden arbejdede han på film som It Came from Beneath the Sea (1955), Earth vs. the Flying Saucers (1956), The 7th Voyage of Sinbad (dansk: Sinbads syvende rejse) (1958), The 3 Worlds of Gulliver (dansk: Gullivers eventyrlige rejser) (1960), Jason and the Argonauts (dansk: Jason og det gyldne skind) (1963) og Clash of the Titans (dansk: Titanernes kamp) (1981). Sidstnævnte var i øvrigt den sidste spillefilm, Harryhausen arbejdede på, inden han trak sig tilbage.
Selvom Harryhausen arbejdede med mange forskellige typer af effekter, er det især stop motion-teknikken, man associerer med ham. Særligt berømt er han blevet for stop motion-sekvenserne i The 7th Voyage of Sinbad og ikke mindst, Jason and the Argonauts, hvis berømte stop motion-animerede skeletter bl.a. tjente som inspirationskilden for skeletterne i Sam Raimis Army of Darkness (1992). Der er øjeblikke i mange af Harryhausens film, der er af filmhistorisk kvalitet.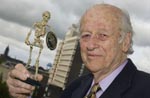 Harryhausens effektarbejde har inspireret generationer af filmskabere som bl.a. Steven Spielberg, George Lucas, Sam Raimi, Peter Jackson, Tim Burton og James Cameron. Trods banebrydende effekter i mange af de film, han arbejdede på, modtog Harryhausen aldrig en Academy Award, men i 1991 modtog han dog akademiets Gordon E. Sawyer Award, der tildeles personer, der har bidraget med teknologiske landvindinger.
På trods af nutidens hyperrealistiske computereffekter, holder Harryhausens effekter stadigvæk. Stop motion-animationerne er selvfølgelig alt andet end overbevisende, men de har en charme og en stoflighed, som de færreste CGI-effekter kan matche. Af samme grund bliver Harryhausens klassiske stop motion-effekter ved med at fascinere og betage, og det vil de formentlig fortsætte med
Harryhausen var gift med Diana Livingstone Bruce fra 1963 til sin død; sammen fik de datteren Vanessa. Fra 1960 til sin død var Harryhausen bosiddende i London. Han døde den 7. maj 2013 i en alder af 92 år.
Ray Harryhausen på Planet Pulp:
Film:
20 Million Miles to Earth (1957)
The Valley of Gwangi (1969)