17. juni 2013
Daniel Hvid
Vision Quest Part I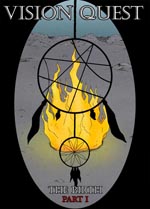 Planet Pulps Daniel Hvid har taget springet til tegneserien – læs lidt her om hvorfor og hvordan.
Jeg har altid holdt meget af at tegne. Det hele startede som barn, hvor jeg gentegnede mine favoritscener fra klassiske film som Jason and the Argonauts (1963), King Kong (1933) og The Ten Commandments (1956).
I skolen blev de fleste timer også brugt på at skrible små figurer på næsten alt hvad jeg kunne komme i nærheden af – oftest til stor irritation for sidemanden, der som regel ikke havde planlagt at have en stor dræberrobot, der tæver Mickey Mouse på forsiden af sin danskbog.
En proces med dogmer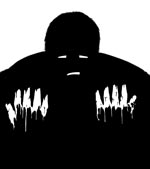 Ideen om at lave en tegneserie har altid været spændende, men på samme tid også skræmmende omfattende. Det var derfor jeg i starten af februar 2013 begyndte at skrive på en kort historie, der kunne omsættes til en kort 10-12 siders tegneserie; så kunne jeg i det mindste prøve at arbejde med mediet.
Før skriveriet begyndte opstillede jeg nogle krav (eller dogmer om man vil), som skulle indgå i projektet. Nogle af disse var bl.a.
1. En simpel historie (fortælles på ca. 10 sider)
2. Ikke for meget dialog
3. Et minimum af karakterer
Jeg brugte disse dogmer for at gøre processen med den første tegneserie meget simpel, så jeg ikke knækkede halsen og evt. ville droppe projektet halvvejs igennem. Dette var både en test af mediet og for at lærer det bedre at kende rent teknisk, og samtidig skulle det være en slags introduktion til vores hovedkarakter – en slags prolog.
Spaghettiwesterns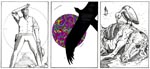 Der er mere kød på historien og pt. er manuskriptet til andet kapitel, i en planlagt trilogi, ved at være overstået og tegnefasen er så småt ved at gå i gang.
Rent visuelt er jeg meget betaget af at ramme en blanding imellem psykedelisk surrealisme og Sergio Leones spaghettiwesterns: Det hårde og støvede look af en øde ørken kombineret med 70'ernes psykedeliske mønstre, var noget af den inspiration, der kickstartede tegningerne i det første kapitel.
Det var fra begyndelsen meningen at alle siderne skulle være i sort/hvid, med enkelte elementer i skrappe psykedeliske farver og mønstre. Det er ikke så udbredt her i det færdige resultat, men der er nogle enkelte elementer, hvor det ses tydeligt.
Arbejdet på denne korte prolog var både spændende og lærerig, både hvad angår skrivning og især det visuelle. Siderne er bygget meget hårdt op, og jeg kan i bakspejlet se, at jeg bliver nødt til at arbejde lidt mere med at lave mere flydende billeder, hvor figurerne ikke er så stive og hvor der er mere tydelig bevægelse i billederne.
Dette tager jeg med mig til næste kapitel, der bliver mørkere, længere og en del mere voldsomt.
Link til Daniels tegneserie.
Link til Daniels blog