13. september 2008
Thue Møller Hylle
Hate Takes its Form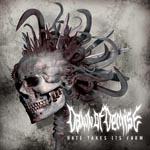 Dansk metal har medvind i disse tider, og det har dødsdrengene fra Dawn of Demise ikke tænkt sig at lave om på med fødslen af deres første lille onde barn, mesterværket Hate Takes its Form.
Silkeborg er kendt for tre ting; Hjejlen, Silkeborgsøerne og Alphabeat. Hvad knap så mange ved, så stammer Danmarks tungeste dødsmetalband Dawn of Demise også fra denne jyske by. Hate Takes its Form er deres første fuldlængde-album, og er kommet på det lille amerikanske selskab DeepSend Records. Bandet har selv stået for indspilningen, men har fået pladen mixet af Jacob Hansen, Danmarks pt. måske bedste metalproducer, der lige har lagt sidste hånd på Volbeats seneste udspil. Det kan man virkelig høre, da alle instrumenter fremstår klart, og kompositionerne er knivskarpe og passer perfekt til bandets superstramme stil.
Oldschool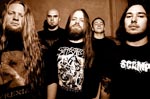 Stilen på pladen er "oldschool New York deathmetal", og bandets største inspirationskilde er da også kongerne inden for denne genre, nemlig Suffocation. Her blandes superhårde smadre-riffs med hurtige stykker og blastbeats, og denne blodige lagkage får man tværet ud i fjæset, godt krydret med forsanger Scotts dybe growls. Trommeslager Kim og bassist Bjørn ligger en blytung bund, og især Kim bør fremhæves for sin tøndeslagning, der er lige dele groove og sublim teknik. Martin, der swinger leadspaden, er suveræn på sit instrument, og især hans soloer lires af med overlegen perfektion.
Fra første til sidste skæring ses der ikke tilbage, så folk med hang til melodi og variation i det musikalske udtryk bør nok gå en kæmpe bue udenom denne plade. Man kan argumentere for, at pladen næsten fremstår som en anelse for hård, da den er så massiv, men det er netop også dens styrke, da dødsmetal, når den er bedst, skal være så kompromisløs, som muligt. Efter min første gennemlytning af pladen var jeg bombet tilbage til stenalderen, og mit intellekt kunne ligge på et meget lille sted – og så tror jeg, man må sige, at bandets mission er lykkedes.
Lyrik efter reglerne
Kaster man et blik på teksterne, vil man straks erfare, hvor smukt lyrik egentlig kan tage sig ud. Alle regler inden for dødsmetalgenren overholdes til fulde, og dette citat vil jeg lade stå for sig selv: "Bleeding – cumming. I need blood to satisfy me. Necrophilia so malignant as I rape the dead. No one seems to want me. I am the stranger following you. Everyone is scared of me. I want to fuck them – I want to kill them". – det er sgu' da smukt.
Coveret er superfedt udført af Johnny Haven, der også er kendt som forsanger i det danske metalband The Burning. Forsiden på coveret, som prydes af et kranie, gennemboret af sakse, knive og rustne skruer, sælger bandets stil fortrinligt, og er særdeles professionelt udført.
Jeg kan bare sige: køb skiven, hør musikken, læs teksterne og få dig en griner, og jeg vil derfor give Hate Takes its Form fem ud af seks stjerner. Den eneste grund til, at jeg ikke kan give topkarakter er, at bassist Bjørn er Silkeborg-fan, og i disse hårde AGF tider går det simpelthen ikke. Just kidding! De får sgu' seks!
Nummerliste:
1. Hate Takes its Form (4:35)
2. … And Blood Will Flow (4:21)
3. Degrading the Worthless (4:29)
4. Within the Flesh (5:12)
5. Intent to Kill (3:42)
6. Impurity (3:59)
7. Beyond Murder (4:44)
8. Malice – Kill to Conform (3:28)
8. Domestic Slaughter (4:12)
9. Regain our Masochist (6:03)
Total spilletid: 44:45

Titel: Hate Takes its Form
Kunstner: Dawn of Demise
Produceret af: Jacob Hansen
Udgivet: 2008
Label: DeepSend Records
Anmeldt af: Thue Møller Hylle | 13/09/2008