16. februar 2013
Mogens Høegsberg
Star Wars-rygte: Harrison Ford med i Star Wars Episode VII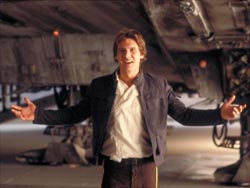 Okay, inden I skyder først (sådan som Han Solo helt sikkert gjorde det i cantinaen i Mos Eisley) eller fryser mig ned i karbonit, skal I lige slå koldt vand i blodet og vide, at dette her indtil videre skal arkiveres i "Ubekræftede rygter"-kategorien!
Ikke desto mindre vil websitet Latino Review vide, at Harrison Ford vender tilbage som Han Solo i Star Wars Episode VII. Og som Empire gør opmærksom på, har folkene på Latino Review tidligere vist sig at have troværdige insider-kilder.
Hvis – og jeg understreger igen, at dette er et Jabba the Hutt-sized "hvis" – Ford har sagt ja til at medvirke i Episode VII, giver det anledning til nogle interessante spørgsmål om resten af castet og historien i Episode VII: Kommer den nye trilogi til at fokusere på Luke, Leia og Han, eller dukker de kun op i mindre roller for at give stafetten videre til et yngre cast?
Sidstnævnte virker umiddelbart mest sandsynligt, set fra et Hollywood-synspunkt (hvor der generelt lader til at være en højtudviklet fobi for skuespillere på den forkerte side af 30), men muligheden foreligger, at den nye trilogi i høj grad kommer til at dreje sig om hovedpersonerne fra den originale trilogi. Det vil naturligvis forudsætte, at også Mark Hamill og Carrie Fisher siger ja til at vende tilbage.
Det bliver interessant at følge rygterne i den kommende tid – og med den tidsplan, Disney opererer efter (Episode VII skal efter planen have premiere engang i 2015) kan vi nok godt regne med, at vi ikke skal vente alt for længe på flere konkrete oplysninger om den nye film.
Her på Pulp-redaxen skal vi nok holde øje med rygtemøllen og vende tilbage med både rygter samt be- og afkræftelser i takt med, at de løber ind. Watch this (hyper)space!
Kilder: Empire og Latino Review.