19. februar 2013
Mogens Høegsberg
John Williams komponerer alligevel musik til den nye Star Wars-trilogi?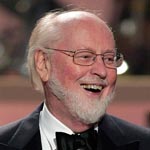 Der siver konstant interessante nyheder ud af Hollywood angående den kommende tredje trilogi i Star Wars-sagaen.
Da det blev bekræftet, at J.J. Abrams var ombord som instruktør på Star Wars Episode VII (med planlagt premiere 2015), gik de fleste, inklusive undertegnede, ud fra, at det betød, at Abrams' faste komponist Michael Giacchino skulle levere musikken. Ikke bare på grund af Abrams' og Giachhinos faste samarbejde, men også fordi John Williams i de senere år kun har komponeret musik for to personer: George Lucas og Steven Spielberg.
Nu lader det imidlertid til, at Williams faktisk forventer at skulle komponere musikken til den nye trilogi. Websitet FirstShowing.net citerer en forumpost på John Williams Fan Network, skrevet af en fan, der var til en John Williams-koncert i forgårs (16. februar). Her er, hvad Williams angiveligt skulle have udtalt umiddelbart før fremførslen af Star Wars-temaet:
"We're about to play Star Wars [audience interrupts with cheers] and each time we play it, I'm reminded of the first time we played it decades ago. Neither I, nor George, nor anyone else involved thought this would go far or in a few years there would be a sequel and I'd have to revisit the themes…and years later another trilogy. Now we're hearing of a new set of movies coming in 2015, 2016…so I need to make sure I'm still ready to go in a few years for what I hope would be continued work with George… [more cheers]." (Læs det originale forumindlæg her: http://www.jwfan.com/forums/index.php?showtopic=22882).
Ikke alene lyder det som om, Williams forventer at blive bedt om at levere musikken; det lyder i høj grad også som om, han har lyst til det!
Det lyder til gengæld også lidt på Williams som om, han forventer, at Lucas er mere involveret i den nye trilogi end han egentlig kommer til at være*, men ikke desto mindre er Star Wars så stor en del af både Lucas' og Williams' livsværker, at det måske i sig selv er nok til, at Williams gladelig hopper ombord på den nye trilogi.
Det spændende bliver så, hvordan valget af komponist egentlig kommer til at spænde af – får Abrams lov til selv at vælge sin komponist og vil han i så fald vælge Williams frem for Giacchino? Eller tager Lucasfilm beslutningen for Abrams og beslutter, at det skal være Williams?
Hvor meget jeg end kunne tænke mig at høre et Giacchino-score til en Star Wars-film, må jeg blankt indrømme, at jeg mener, at hvis Williams ikke bare er villig til at vende tilbage, men ligefrem virker tændt på projektet, ja så bør tjansen gå til Williams!
Ligesom med alle de andre Star Wars-rygter, der flyder ud af Hollywood i en lind strøm i disse dage, skal vi nok følge op på dem her fra Pulp-redaxens side!
Kilde: FirstShowing.net
* Selvom Lucas officielt er trådt tilbage som head honcho hos Lucasfilm, kommer han formentlig til at lure i kulissen – for det første skal vi huske, at det er Lucas' tro væbner gennem mange år, Kathleen Kennedy, der har overtaget chefstolen hos Lucasfilm. For det andet bliver historierne bag den nye trilogi angiveligt baseret på Lucas' oprindelige storylines.